This performance-based workshop will give you the speaking tips, tricks and practice you need to get noticed in your career and your life. EH MEMBERS use code EvolveHerMember for 20% off your ticket!
About this Event
It's time to get real about your speaking skills! Join Sally Lou Loveman, former Audience Producer forThe Oprah Winfrey Show, for an evening of real talk. Speaking well is a life asset and it helps us all be better humans.
The Unexpected Speaker Workshop is a performance-based event where the audience is as much of a teacher as I am. As the former Audience Producer for The Oprah Winfrey Show, I know how powerful audiences are, which is why I always say "The better the audience the better the speaker." This workshop speaks to my core value – it's all about the audience.
We all spend so much time talking to ourselves – are we where we should be, do people like us, are we doing enough for others, are we doing enough for ourselves? Let's talk to each other instead. Let's get out of our head and get real with ourselves and with each other.
Join me for The Unexpected Speaker Workshop – and prepare to get real. Fresh from the standup comedy stage and eager to engage in a meaningful conversation with you, this workshop is an opportunity to talk about topics that matter … Teamwork, Talent, Magic, Momentum, Purpose, Pain, Forgiveness, Fear, Story and Saying YES!
It's more performance than presentation which allows for unexpected moments and some bona fide fun. You pick a topic, I give my "Tight 5" (that's standup language) and then it's your turn to give yours. We'll break each topic down and learn from each other.
This is a casual after work evening for heart centered professionals who are dedicated to living a more connected life. We will share our thoughts, stories and feelings on what works and what doesn't work in our lives and how we can break through some of the stuff we struggle with. We will talk about what we want more of and how to get it, and what we want less of and how to lose it. Each practice will move us forward to becoming better speakers, storytellers and happy humans.
The workshop will be hosted at EvolveHer – a beautiful space designed to inspire creativity and foster collaboration amongst women located in Chicago's River North neighborhood.
I will also be sharing a passage or two from my upcoming book SPEAK – love your story, your audience is waiting.
Expect the unexpected and leave with some strategies to keep your life connected and real. And of course, wine and appetizers will be served.
I hope to see you there. Love On!
Sally Lou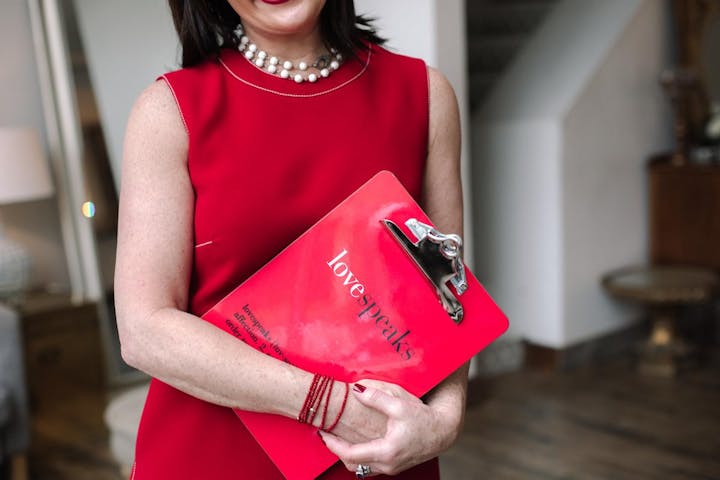 Be one of the first 5 people to register and you will go home with a lovespeaks clipboard – to hold your stories!
About Sally Lou Loveman
Sally Lou Loveman has spent a lifetime doing what she loves. As the former audience producer for The Oprah Winfrey Show, Sally Lou lives her purpose by connecting with audiences. At age 14, Sally Lou discovered her passion for television when she was an audience member at The Mike Douglas Show. She spotted a girl on the set with a clipboard and while she didn't know what this girl did, she knew one day she would do it too.
After a 35-year career in television and having entertained over a half a million people from the Oprah stage, Sally Lou Loveman brings her message to new audiences through her business lovespeaks.
Today, Sally Lou serves her clients and engages audiences with inspirational presentations that connect with truth, talent and a life's work. Her speaking engagements focus on connecting audiences with their greatest talents and designing professional and personal experiences that embrace that innate joy.
Sally Lou is no stranger to a microphone. She hosts her Unexpected Speaker workshops for heart-centered professionals; and she is also available to serve as emcee for heart-centered events. Sally Lou brings her producer talent and heart to the room and promises to make every moment memorable.